Daycare
Doggy daycare it's benefits for the dog and the family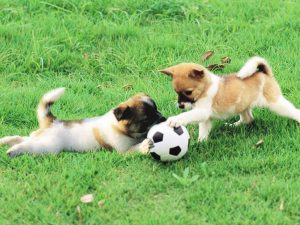 A doggy daycare might sound very tempting if suddenly you have no one to stay with your playful pet, and you are afraid that while at work, your dog will chew everything it can find in the house. When you urgently need somewhere to leave your four-pawed friend, and you must go study or get to work on time, then it no longer has to be a problem – this doggy daycare was created for you.
Thanks to a flexible schedule, you can now choose a convenient time for training, and do not have to be worried about where your pet is staying.
And now what is doggy daycare?
We all know that for owners to be proud of their growing puppy, it must be trained, but when can people find the time to train the dog if they are at work all day?
To do this, there is a canine daycare for dogs where owners can do their own things, and four-legged students can get training. Every owner wants to understand his friend, be proud of him, and enjoy walks together after long days of work.
Doggy daycare is divided into different categories including both intellectual and physical development. The basic obedience course, family dog courses, as well as the service dog course will train the dog in all areas step by step. This is a good opportunity for all family members to raise their dogs and at the same time be busy with their own affairs.
The training of the puppy has its own specifics, and during doggy daycare, he will be given time for socialization, psychological formation, training, and the proper communication of the dog with the owner.
All dogs – both teenagers and puppies, have a lot of energy and directing this energy in the right direction falls on the shoulders of the owners themselves. So if you do not want to spend money on the repairs, or new things that your pet has spoiled while he was bored while you were at work, you can present him to doggy daycare. Otherwise, all the dog's energy and habits will be formed according to the dog's discretion, but it will not be good for you or your dog.
Dog daycare has various forms of training: there is training, both individually and at the doggie daycare center, training when the dog remains in the school environment, and training when the dog returns for a certain period of time home to his family. Doggy daycare has that golden medium where a dog can live with his master in the morning and evening, on weekends, and in the daytime, in a certain schedule, and can attend a professional school of training for dogs.
Canine culture says that the owner assumes responsibility to buy a four-pawed friend for the family, and knows that the care of the dog is not limited only to the fact that the dog needs to be walked and fed. He understands that the dog, like a child, should receive the appropriate development, appropriate training, and properly trained dogs will bring only joy and inspiration to the family.
The dog with its cheerfulness, devotion, and love brings many useful and important qualities to the family. The dog has helped people from the time immemorial and is now ready to do it with the great joy. In the modern world, people are exposed to a lot of different stresses, which negatively affects their physical and psychological state. Therefore, coming home and seeing the cheerful and loving four-pawed friend who runs to his owner, licks him and sincerely rejoices that his owner has already returned home, removes 80 percent of the stress, anxiety, and pressure experiences that were accumulated during the day.
Scientists have proved that in these complex crisis conditions, in which people live now and the financial crises that a lot of stress is accumulated. This helps explain that animals, especially the dog, under whatever conditions is always glad to see their owner, and they will always share joy and sorrow. Of course, a person in these difficult conditions, even if he has some financial difficulties, always finds the opportunity to spend money on his dog, to please her because this mutual exchange and harmony they complement each other.
Doggy daycare is not only the right decision for training your dog, but also an opportunity for the whole family to be a part of canine culture and the training of their four-pawed friend.