Service Dog (Dog Assistant)
This video is an educational foundation of what each dog assistant must go through, after which they can get trained in different therapy programs.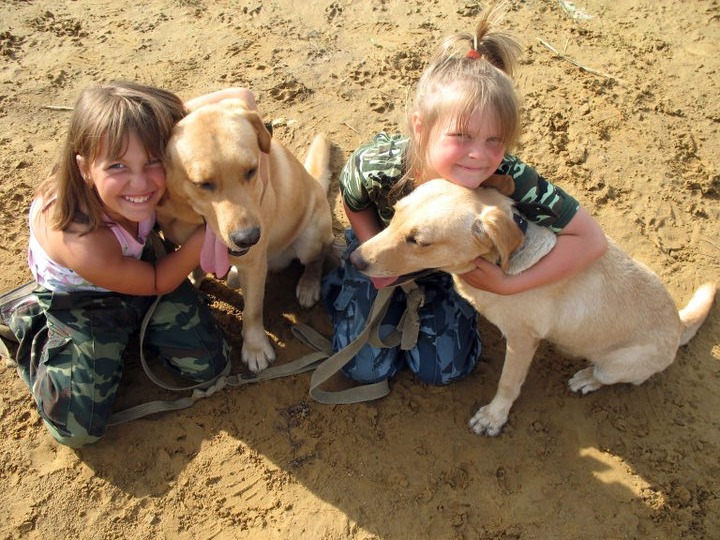 Royal Dog Academy offers a therapy program for adults and children that have disabilities, such as Down's Syndrome, cerebral palsy, autism, deaf people, visually impaired, have movement issues, for seniors, we have special individual programs that have dogs that work as service or therapy dogs. Service dogs help you in everyday life, while therapy dogs help heal any ailments.
Life with a disability can present a wide range of unique challenges. It is why so many look to Curo trauma insurance to help cover the costs that come with it, especially if their disability comes from an injury that was beyond their control. For example, if someone is unable to work as a result of their disability, earning a salary can be difficult. It is therefore vital that people living with disabilities are able to access financial support. Whether this is in the form of disability insurance benefits or other insurance payments, help is out there for those that are struggling. Finances to one side though, there are other challenges that people living with disabilities must face in their day-to-day lives. This is why a service dog can be a lifeline.
In order to train a therapy dog for our clients, we use an individual approach to our clients and show the help that your service dog should be doing. The dog is specially selected by age, size, breed, coat, and the kind of temperament that will best match your lifestyle and the help that you need. Lots of professionalism, and our 4-legged friends are ready to serve you and your family.
Step By Step Guide to Service Dog Training:
1. Application Process
Online Applications for a service dog are taken into consideration by our training team to evaluate a wide range of criteria from suitability, need of service, type of training, and urgency of disability/ medical condition to ensure that our canine therapy program is focused on improving people's lives through the addition of a trained service dog.
2. Interview
After screening the initial application you will be invited in to our training center, or online appointments will be scheduled for out of state candidates. The purpose of this interview is to begin tailoring the plan for training based on the specific goals of your service program. We take care to learn the full details for each case to specialize the training program for each individual.
The interview includes a personal acquaintance of the trainer and the client with familiarization with client's individual questions and wishes. The trainer also conducts a practical lesson where he looks at the recipient's reaction to different types of dogs (large, small, medium), client and dog compatibility and the possibility of working together. Such interview cost $150 which includes the practical lesson
3. Acquaintance & Testing
This is an important and exciting step to begin finding the right dog for you. Our trainers work with dogs of all breeds, sizes and temperaments which vary just like they do with humans. Choosing the right type of dog based on creating a strong pair between owner and canine is essential to establishing a long term service relationship that will be mutually beneficial.
4. Contract Approval
Once the initial steps have been completed, our team will issue a final approval to formally begin the training process. This would also require the approval or recommendation from a medical professional. We require an initial deposit of $2000 to enact the training, and due to the significant training time to educate a service dog the total cost could range from $9500 to $39000. At this point the trainers will have the required information from your interview and testing to plan the program duration and pricing.
5. Selection Class
After completion of training paperwork, our team will be ready to continue classes and owner training in their role as a future companion to our service dog. At this point we will have completed background screening of different potential dogs and selected a dog that is both capable of the job and suited as a companion for the owner.
6. Training Program
During the training process, we will schedule regular owner classes to demonstrate the progress and help acclimate the dog to working with you. Each type of service training has individual specifications, including home training with you and varying lengths of training in our center. The goal is to efficiently educate the dog to begin serving a critical mission with their owner, and we will ensure that the training is progressing with the priority being 100% success in each service.
Notes:
Price range 9500 to 38000 depending on the specific training plan
Interview and practical training cost $150
Short video, medical prescriptions/ condition, FAQ
---
Service dog applications are processed within 48 business hours. Our training staff will carefully review the information you submit in your application, and if we feel that a service dog would meet your needs, we will contact you within 10 days to discuss your needs. After that we will schedule an interview.
Please understand that getting a dog is a personal experience and a huge responsibility

Please provide thoughtful responses by taking your time and providing detailed answers for each question

The more descriptive and specific you can be, the more it will help us determine if you are a good candidate

Your answers are strictly confidential
List of service dog education:
Medical Alert
Diabetes Alert
Visual Assistance
Hearing Assistance
Wheelchair Assistance
Epilepsy Alert & Response
Brace/ Mobility Support
Autism Support
Psychiatric Service
Fetal Alcohol Syndrome Assistance Service

Allergy Detection Alert
Emotional support
Service dog for other animals
Dog nanny
Post-Traumatic stress disorder
Drug rehabilitation service dog
Alert to allergen in food
Routine reminders(feed dog, go to sleep, eat meals, wake up)
FLYING WITH SERVICE DOG
---
This program is unique because it helps children and adults with different disabilities such as autism, cerebral palsy, and down syndrome; as well as deafness and blindness.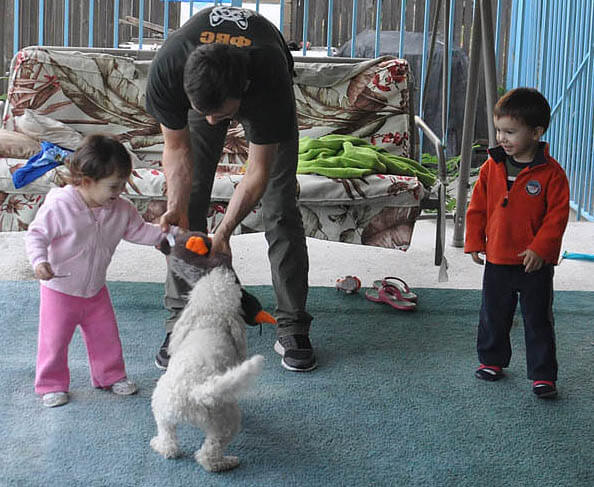 Kanis-therapy is divided into 4 stages. Each stage consists of at least 20 classes depending on the patient.
Dog Assistant – first stage
The first stage is focused on socializing the patient with the dog. The selection of the dog-therapist is based on the individual characteristics of the patient. This stage is one of the most important ones, and lays the foundation for success at an early stage.
Dog Assistant – second stage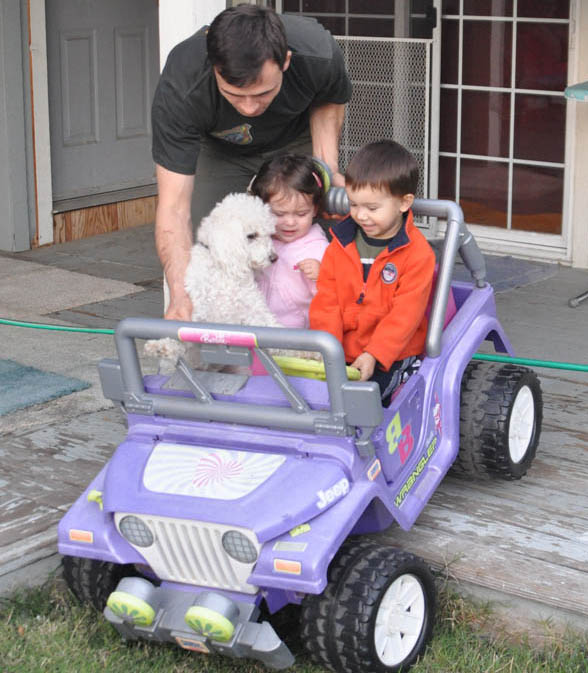 The second stage is responsible for the development of the relationship between the patient and the dog. This is done through interesting activities that are based on the positive desires of the patient. These activities are ones that can be done with the dog: playing together, sharing a bath, driving together, etc.
As a result of this stage, the patient improves his or her vision, hearing, concentration, relaxation, and is able to interact with the environment, people, and with other dogs. This is a great outcome for patients because it allows them feel courageous and better about their ability to do things on their own.
Dog Assistant – third stage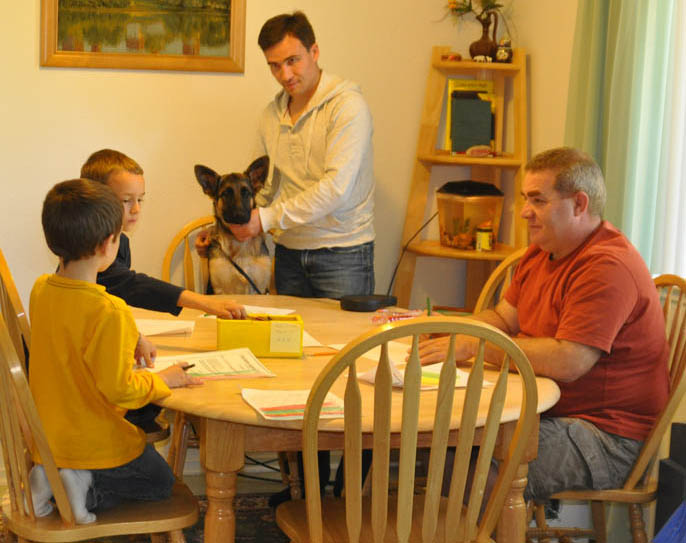 The third stage is where the patient develops a strong feeling of importance. This is extremely beneficial to the relationship with the dog. In this stage, the patient must learn to manage a dog with words, gestures, special signals and sounds. He or she gains the ability to properly communicate with the dog therapist and eventually gains complete control of the dog. This stage brings great therapeutic results as the patient becomes aware of the ability to be independent, to manage, and subordinate.
Dog Assistant – final stage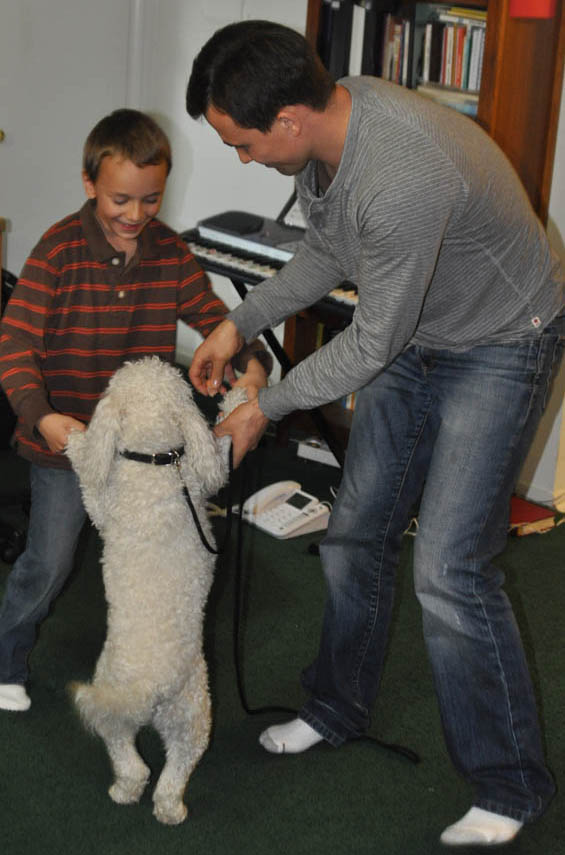 The final stage is transforming the patient, changing his or her behavior with the understanding of the care he or she provides for his or her beloved four footed friend. This stage includes the understanding of the need for daily walks and care in accordance with the schedule of his beloved dog. Depending on the dog and how active they are, they may also need one of the best orthopedic dog beds to help care for their joints when at rest.
The patient then understands that the walk is not only a game, it is a mandatory exit for dogs to relieve themselves and this must be done regularly. This segment brings about an entire transformation in the patient. At this stage, walking, feeding, and combing the dogs also brings a therapeutic effect, as one begins to understand the meaning of care, love, and living together with his or her beloved dog, which is a significant contribution to the patient's life.
---
Frequently Asked Questions:
Hopefully this has answered some of your questions. Additional questions can be discussed in the phone interview and consultation. Each recipient is handled on an individual basis with many different scenarios.
To submit an application select the link below. A non-refundable fee of $25 will be charged to ensure the commitment level of each applicant.