Service Dog Trainer
Dog Trainer Courses – Become a Service Dog Trainer
Service dog training is delicate work that helps make a real difference in many people's lives. For example, a person with limited hearing or deafness needs a dog that acts as his or her ears, a person that has any physical disability needs a dog that can pick up any dropped objects, as well as bring medicine, and blind dog owners need their furry friends for guidance through busy city streets (most importantly, crossing those streets) and designated routes. A guidance dog for the blind is highly important in keeping his or her owner safe, especially when crossing the street. Children with different conditions such as autism, cerebral palsy, and Down-syndrome also require the assistance of service dogs. Each person is different, which is why every service dog training program is custom fit to every one's personal characteristics.
The first thing that an aspiring service dog trainer learns is the basics of dog behavior. This is the foundation for any training a dog undergoes, and will help the student be able to better communicate with the dog. A dog trainer learns in this program, first learns the basics of dog behavior, and with the help of this, the dog will understand what the owner tells him. The trainer needs previous knowledge in order to properly train the dog. There are different methods of training, all based on the nervous system and breed of the dog. We come up with an individual plan based on that. The second important thing is to know the personal characteristics of a person and learn the facts about his illness, whether it's physical disability, deafness, blindness. The ears of the dog will help in real life, and based on each person, we will pick the temperament, weight, size, fur length of the dog.  After all of this, the trainer begins to prepare a service dog. For this training, we pick what period we will be training the dog, whether it be on campus or in other places, where we will be working with owner, and what period we will start working on the job the dog needs to do for its owner and the trainer provides service for the person and the dog, just like a service dog trainer must see that in a year the owner properly uses the dog and doesn't ruin it and also bases his education on experience with previous service dogs. A service dog trainer will learn how to teach a dog using different techniques and will use this knowledge will help to teach a service dog so that the dog can do different things for the owner which a normal dog can't do.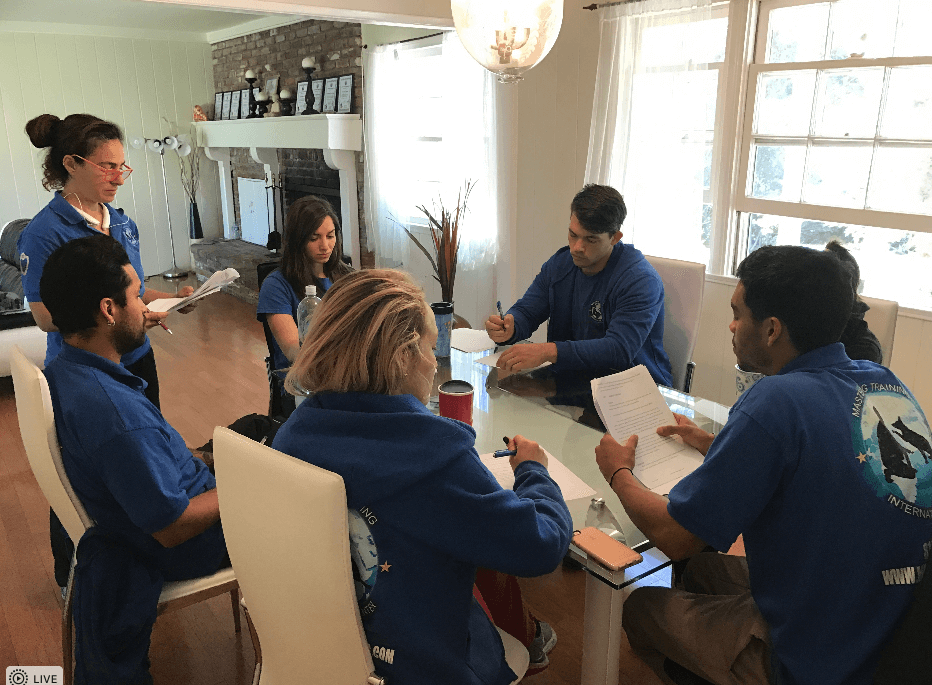 You will learn physiology, psychology, and the characteristics of different breeds so that you will be able to properly pick a dog for your client. Labradors, German Shepherds, Golden Retrievers, Yorkshire terriers also are good, Malinois, Chihuahas, Golden/Labradoodles. All of the mentioned breeds are good for therapy, but it is important to pick the correct dog that has a nervous system that matches up with the owner, as well as being psychologically well, brave, and has good stress-levels and can help their owner in various places, and the service dog trainer will be one that helped choose a good dog for the client, and properly teaches the dog.
The trainer whom completes the Service Dog Course will go through theory and receive hands on  education. During this course the trainer will learn how to work with different types of dogs and people with different requests and needs.
The trainer will be exposed to a specialized and developed high intellectual training with four different levels.
Services Dog Trainer Course Price
View details (hours and price) here
Have Questions?
Please, contact us by email at: [email protected]