Protection / K9 Police Trainer
Dog Trainer Courses for K9 Police Department
In order to professionally train K-9 handlers, it is necessary to learn the proper techniques. Master Dog Training teaches highly professional dog training skills ranging from bomb detection to narcotic detection. There are multiple methods that can be used to teach a handler to properly work with his dog to perform the necessary skills. The trainer must teach a K-9 handler and his dog how to track a person and how to find objects in a 150'x150′ square area. These lessons must be able to be applied in every possible setting.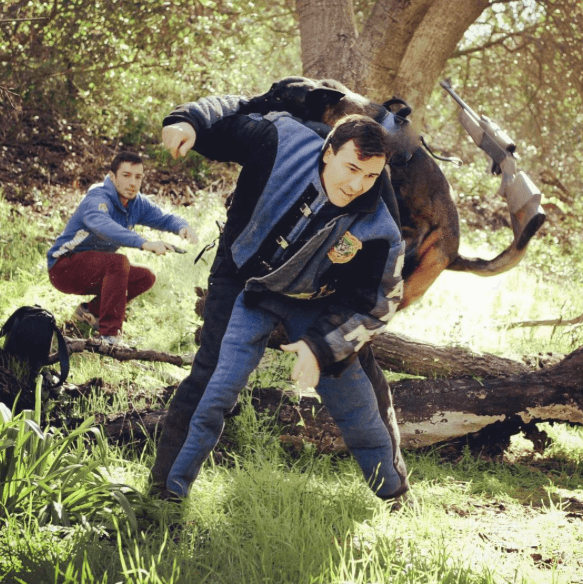 Dog Trainer Courses – Shutzhund & Personal Protection of the Handler
Shutzhund consists of a test that every police dog handler must pass. It shows that the patrol dog can keep a suspect contained and that the handler can work with the dog in different problematic situations, such as using tactics while under fire.
Dog Trainer Courses – K9 Obedience Training

A police dog must be able to work in both small and large towns, and will have constant contact with civilians. The dog must behave well and listen to the handler. For this, a K-9 handler goes through obedience training, and has to pass a test that includes commanding the dog off-leash. Just like the other training mentioned earlier, obedience requires multiple specific points that must be learned through training. The dog must be obedient not just during the test, but also during work and in everyday life in different settings and both positive and stressful situations. The dog must be completely obedient to its owner. For this, the dog goes through a psychological test for service, and is also taught how to move through different obstacles. The dog is constantly exercised and played with so it uses its energy productively and has to constantly fulfill commands in different stressful situations, even with constant distractions that might occur during work with the handler.
Police that work in airports have a different set of criteria for working with their dog. For areas where there is constantly large amounts of people, vehicles, and noise, the dog handler must make sure that the dog behaves.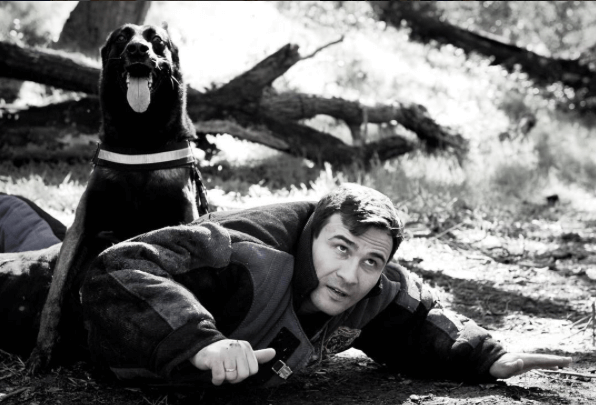 Dog Trainer Courses for Special Operations Units

MasterDog Training teaches dogs specifically for certain programs, such as SWAT and other organizations. The level of training is even more professional and the dogs are used in special operations. The dog can be dropped or picked up, as well as protect and jump from a helicopter. The dog will also learn how to be transported in different marine vessels, and other forms of transportation. The dog will be trained to maneuver with a camera, a GPS antenna,  and can move through water, hold a suspect in different environments such as a run down building, and  move silently with a SWAT specialist to not give away its location.  A dog of this level can also crawl with its handler, swim through large bodies of water, and move through explosions and while under fire.
If your K9 department is interested in having Maxim give a seminar, go here to sign up today.
Protection / K9 Polica Trainer –  Online Course & Practice
Online Dog Trainer Course includes 6 sections and 6 tests. After completion all tests you will receive a certificate from our International Dog Training Center! You will also have an option to continue the education and sign up for a practice at our center in California.
Section 1. Introduction to the Study of Dogs – explains the origin and evolution of dogs, development of professional dog breeding, safety while handling working (utility) dogs.
Section 2. Physiological Foundation for Dog Behavior and Dog Training – describes the processes occurring in the dog which aid in dog training. The section provides an understanding of learning mechanisms necessary for practical work.
Section 3. Dog Training Methods & Stimulies – describes training methods and techniques, equipment used during training, frequent systematic mistakes made by trainers.
Section 4. Dog Training Techniques – presents specific techniques to teach a dog to respond to commands as part of a general training course or a protection and guard dog training program.
Section 5. Animal Health – describes the main, most frequently encountered diseases of dogs, first aid rules and techniques.
Section 6. Dog Training Methodology – defines the methods and techniques for teaching trainers to work with dogs.
The Dog Trainer Online Course materials are supplemented by a video which vividly demonstrates a number of issues involving the theory and practical methods of training.
K9 / Protection Dog Trainer Course Price
View details (hours and price) here
Have Questions?
Please, contact us by email at: [email protected]