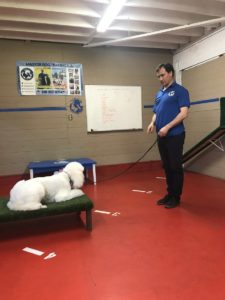 Accustoming the dog to its place is the essential part of the basic obedience course of the successful training. The command "Stay" must be understood by every animal. It is best to accustom the puppy to this command from the early age because in the puppyhood the dog learns much more easily and remembers much faster. In the Dog Training schools of the Master Dog Training Company at a low cost, you can order the training of your pet, starting at the age of 2.5 months. The price of this service in Los Angeles is low, as the training of the dog for the command "stay" is spent a little time.
The acquired skill is useful in such cases:
The dog is begging for something from the table.
Is jumping on the guests
The dog is frolicking around in the house, and you need to calm her down
The trainers of our school in Los Angeles have the experience in training the dog to stay. In principle, only after this, it is worth to continue the further education, because without it nothing else will be working. The competent approach and systematic actions are the keys to success. The ordering of this service is to lay the foundation for the obedience.
How to teach the dog to stay
The course is simple and suitable even for the adult dog, that had been trained to the commands "lie" and "come". The youngest individuals are the most willing to learn something new, as they are developing skills and relationships with others. The dog is trained to the "stay" command by an effective technique in this way:
Put the item that is familiar to the pet.
This place is shown by a gesture; the dog is commanded to lie near that place.
The dog is lured to the marked place with a delicacy.
Praise the dog and give food.
The process is carried out for several times until the command is imprinted in the mind. Every time when the animal is showing obedience, it is abundantly praised and treated. Then the training will be associated with pleasant associations. Shouting and using force methods is strictly prohibited. Our specialists at the affordable cost will help to avoid the mistakes and develop the good habits that will be useful in everyday life and in the service. The training mechanisms that are used by our team are tested and practical.