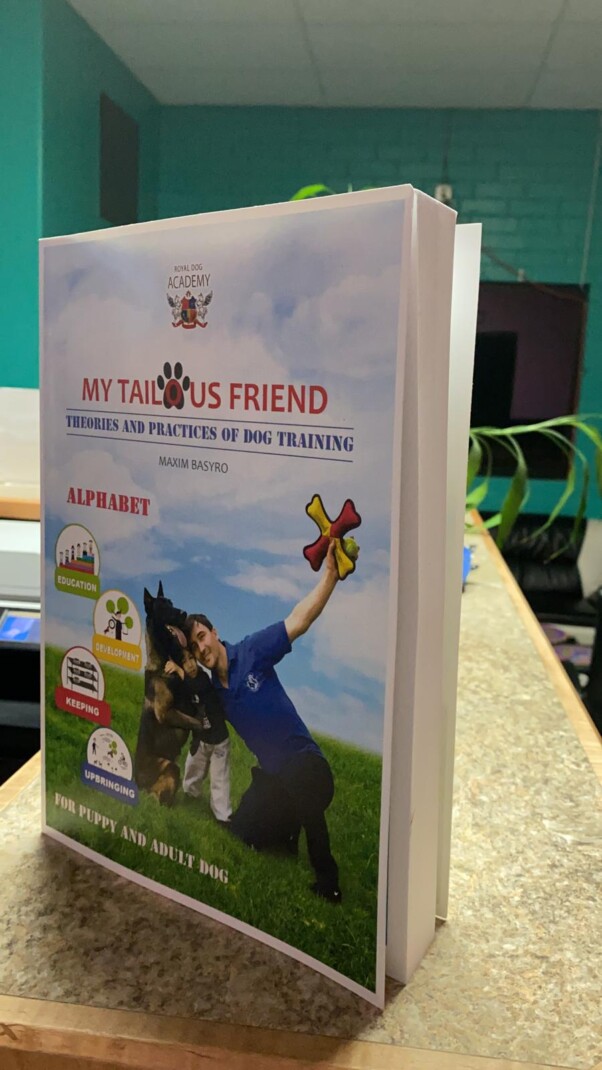 "MY TAILOUS FRIEND"
This book is a fundamental knowledge based on scientific methods, professional education and 25 years of practical experience of cinologist Maxim Urevich Basyro.
ABOUT AUTHOR:
Maxim Urevich Basyro cynologist of the highest qualification category with twenty-five years of methodological and practical work. He was born on July 20, 1976 in Leningrad, in a working family. In 1994, childhood was continued with practical experience in training service dogs and personnel in the northwestern district of the Federal Border Service of the Russian Federation.
Maxim is a founder and leader of several dog schools in Russia and abroad, creator of unique programs and methods for the children's clubs "Young Cynologist" and "Young Frontier Guard" aimed to educate children. During his practical activities he released numerous educational and methodical films such as "Saboteur", "Bodyguard", "I am the trainer of my dog" which describe unique dog training techniques.
Over the years of professional activity, he trained thousands of four pawed friends, provided assistance to thousands of people, trained a large number of dog trainers, received dozens of thank you letters from his life-long customers as well as from governmental departments and structures for the invaluable contribution to Russian cynology.
FROM AUTHOR:
Dear Reader!
As the basis of this book lay my only desire – to help the people find harmony and happiness in the relationships with their four-pawed friend, to make their life together bright, vibrant, exciting, joyful and comfortable. So that in the shelters and on the streets there will be fewer abandoned dogs that the owners could not cope with, for families with the dogs to be happy, I'm ready to share my whole experience and knowledge with you.
To whom, in my opinion, this book will be useful? The owners who already have a dog in their lives with all its manifestations, people whose consciousness and responsibility induces them to gain knowledge before getting a dog, as well as all those who want to connect their lives with the dog training profession or make it your business.
Many years ago I connected my life with the dogs, and since then they have accompanied me throughout my life course, they are my strict teachers, my faithful helpers in my work, my inspiration and my profession.
I am very grateful to every four-pawed friend who has appeared in my life, every owner who has appealed to me for the help, and there were thousands of them, each of my students that has helped me to improve and hone my skills, to find new ways and techniques of training, to realize my personal potential, they have allowed me to become the one I am today. I am eternally grateful to my whole family for the immense support and faith in me, in all my stars and projects.