Welcome to Master Dog Training.
Our mission is to provide the highest quality dog training in the shortest amount of time. Master Dog Training
has more than 20 years of experience that is based on the best dog training techniques from all over the
world: USA, Germany, Finland, Russia, Israel, Turkey, and more. And now we are can share our dog training skills with you in Los Angeles.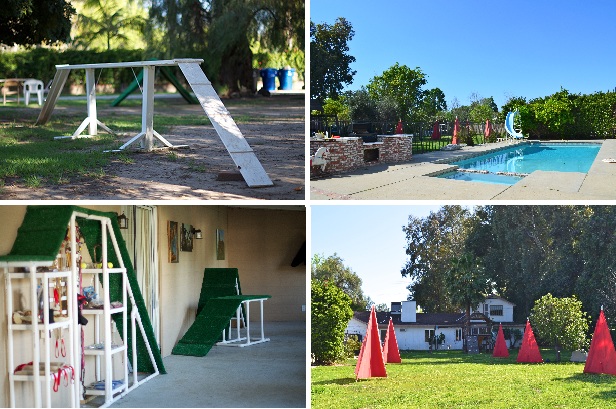 Our school has specialists that have diverse backgrounds, and have received numerous awards in both
Russia and the United States. We specialize in dog training for everyday life and other purposes like for those with physical
and mental handicaps, children, as well as military and police work.
---
Los Angeles Dog Training Courses
Obedience & Agility Dog Training Classes
After completing the obedience dog training course, the dog becomes well-
behaved, and always listens to the owner when given a command. In
the agility dog training classes, the dog plays, experiences joy, and the
owner has a good time with his or her dog in a sporty environment. In the
fitness for dogs course, the dog swims, does different exercises that work
every muscle in its body, learns to go through the agility course, and runs
along with a bicycle. This is for the dog to properly exert all of its energy and
to be healthy. Tracking Through sniffing work, a dog finds a
person, a hidden or lost item, or picks out the ownerís object out of 12 other objects. Sniffing is a necessity for all dogs, regardless of breed.
We also offer Puppy Obedience Training  for puppies 2 months old and older.
In Los Angeles, it is quiet hard to find a dog trainer that is willing to train aggressive dogs. Firstly, there
are not enough trainers with the knowledge to do so, and there is also a big risk the trainer is taking in order to
train this kind of dog. But, Master Dog Training is different; we provide aggressive dog training that helps
these kinds of dogs, teach their owners the reason for the behavior and how to correct i
Shutzhund Dog Training Course
Is a protection sport that is safe and teaches protection to a dog through play. The dog learns how to release
their inner hunter, and in this game of protecting their owner, practices protection and hunting that is
necessary for them and gives them and the owner joy. Shutzhund dog training course fulfills the
dog and makes him or her happy. The next level is training the dog to perform family protection. This teaches
the dog to protect any items left by the owner, the car, the child, and the territory in which the entire family
lives. Although the dog learns protection, they remain friendly and without
Dog Trainers
Our dog trainers are fully certified and have received several nation
and world-wide awards in dog training. Specialists receive theory and
practice and have the opportunity to practice, not just in America, but in
Europe as well. This education will aid them for the rest of their lives
and careers. We offer courses for service dogs that can work with
children and disabled people, as well as police and security dogs,
instruct Shutzhund, owner protection and agility. All of these programs
can be taught online, or in person and the pace will be based on the
individual.
Kanis-Therapy
Kanis-therapy, which helps adults and children, includes work with a
specially chosen dog through a program that was developed by experts
in dog training, psychology, physiology and behaviorism. The program produces noticeable results, as the
participant experiences great joy from working with the dog. The participant also learns how to performcertain tasks with the dog such as walking, playing , cleaning, and traveling. The dog and its owner will participate in different games, and obedience commands will teach the participant to control their dog with over 15 different commands.
The dog will be pleased to do something or to provide service for the participant, and the participant will find a new found confidence within him or herself. The responsibility that comes from being a dog owner: taking care of the dog, walking with them leads to happiness for both dog, and owner. Read more about our Kanis Therapy 4 stages program.
---
BECOME A DOG TRAINER!
JOIN OUR DOG TRAINER COURSES!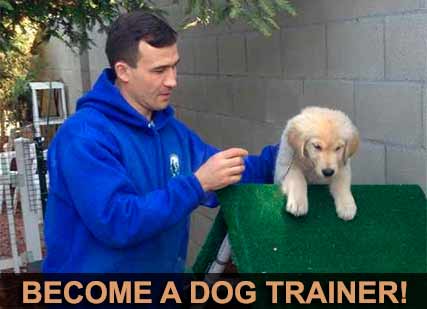 Become a Professional Dog Trainer today!
Have you always felt you had a special connection with dogs? Are you interested in starting your own dog
training business or work as a dog trainer to help dogs and their owners? If so, we encourage you to enroll in
Master Dog Trainer Courses for aspiring dog trainers. We offer a variety of programs that fit every budget!
Join our Dog Trainer School online and become a certified dog trainer at your own pace.
---
Dog Services
Master Dog Training offers many services, including a dog hotel which includes one acre of lush green property, a pool, an agility obstacle course, indoor facilities for massages and training, as well as specialized Shutzhund equipment. From small puppies to fullgrown dogs, we train them all. Not sure what kind of training your dog needs? Our specialists will help you come up with a program specially customized for your dogís age, breed and temperament. Dog massage is used after an active walk (different games, running, swimming, and the obstacle course). The dog is massaged by a qualified specialist that fully understands dog physiology and anatomy. The massage relaxes and helps improve the health of your dog. The massage takes place in a special facility located at our school.
---
Dog Training – Gift Certificates
Gift certificates will delight your family and friends. The recipient will experience the excitement of being at
our facility with the dogs, and will get a personal lesson. For those that love being active and/or are
adrenaline-junkies, they will find joy in working with dogs on a professional level and we will help them learn
new skills and tricks to use with their dogs.